About
Rich in history.
Jackson's Steakhouse occupies the ground floor of the revitalized 1860s-era building that originally housed H. Pfeiffer & Company Mercantile. The building overlooks Plaza Ferdinand — where, in July 1821, General Andrew Jackson accepted the transfer of Florida from Spain to the United States and raised the American flag in Pensacola for the first time.
In 1998, a group of like-minded entrepreneurs were inspired to renovate the old building and open a restaurant to commemorate this historic event. The name of the restaurant would be Jackson's, with a re-creation of his signature serving as the logo and theme of the establishment. In keeping with this idea, since the restaurant overlooks the plaza where this moment in history occurred and where the bust of Jackson stands, they decided to create an atmosphere—from the handcrafted tree-branch light fixtures to the mural behind the bar—that would virtually put patrons in the park.
Rich in flavor.
Jackson's Steakhouse procures only Midwestern grain-fed beef from the heartland of America. The Proprietor's Cut and fresh, local seafood are hand-selected and artistically prepared to perfection. Jackson's great steak cuts stand tall with the superb flavor of wet-aged beef that is like no other thanks to the culinary creations of Executive Chef Irv Miller.
Over the past two decades, Jackson's Steakhouse has earned the Award of Excellence from Wine Spectator nine times. Also, as a nine-time consecutive recipient of Florida Trend magazine's Golden Spoon Award, and now Hall of Fame recipient, Jackson's Steakhouse is considered one of Florida's top 25 restaurants and is placed by the Distinguished Restaurants of North America in the top two percent of all fine dining restaurants in the country.
---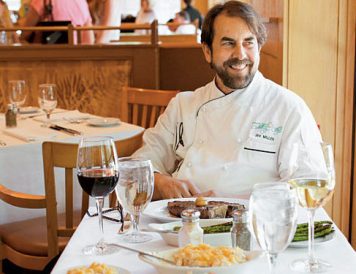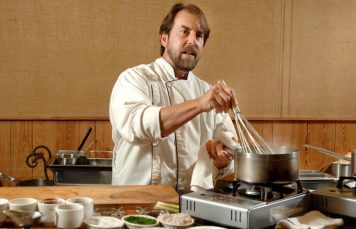 Irv Miller
Executive Chef
Jackson's founding executive chef, Irv Miller, has prepared dinner at the James Beard house for five one-of-a-kind events. A graduate of the Culinary Institute of America in 1982, Miller began his career as chef along the Florida Panhandle at Destin's first out-of-the-ordinary restaurant, Les Saison's. Chef Miller's cuisine made national acclaim while he presided as the first chef at Seaside's highly successful Bud & Alley's restaurant from 1987 to 1993 during the Florida Cuisine movement. In 1990 Chef Miller was recognized by Carolyn O'Neil, host of CNN's "On the Menu," as one of the originators of the "radical" experiment dubbed "New Florida Cooking," and "a pioneer of Florida Coastal Cooking."
Chef Miller has a distinct style, a powerful vision, and most of all, the ability to translate bold ideas into food that's irresistibly delicious and beautiful. Chef Miller is committed to endorsing the Florida Panhandle's seaward and inland bounties. Chef Miller's Southern-influenced cuisine features the emblematic foods of "Real" Florida, such as Apalachicola oysters and Alligator Point wild-harvested clams, Pensacola and Destin red snapper, North Florida shrimp, grouper, and numerous fish species caught responsibly off the Florida Gulf Coast. In addition, Chef Miller embraces the latest Gulf Coast agriculture from new small growers, small gristmills, tupelo honey from local beekeepers, microgreens and hydroponics from urban farmers, and grass-fed beef from local ranchers along with the finest corn-fed beef from the Midwestern Corn Belt.
For over three decades, many of Chef Miller's recipes and articles have been included in the Pensacola News Journal's "Chef's Corner" column, "Bon Appétit," "Food Arts," "Food & Wine," "Florida Trend," "Florida Living," Birmingham's "Portico" magazine, "Southern Living," "Atlanta Magazine," and "The Lodge Cast Iron Cookbook 2014." While performing as television chef/host for WSRE's PBS cooking show "Flavors of the Coast," Chef Miller filmed 51 episodes. More recently, Chef Miller appeared on "Emeril's Florida" TV cooking show promoting Pensacola. He took to the cooking stage for "Coastal Living" magazine's Demonstration Theater at the 26th Annual Sandestin Wine Festival. In addition, Chef Miller represented the Sunshine State at the Great American Seafood Cook-Off 2012. Miller is also the author of  two published cookbooks, "Panhandle to Pan" and his most recent book "Gulf Coast Oysters: Classic & Modern Recipes of a Southern Renaissance"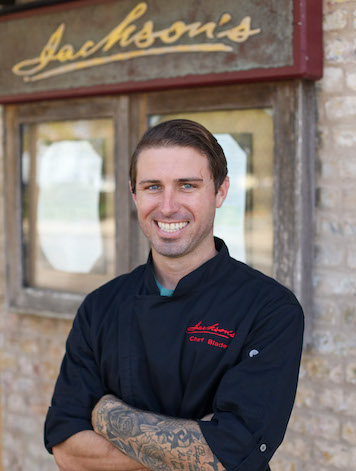 Blade Herring
Chef de Cuisine
Born and raised in the small town of Live Oak, Fl. Home to many a famous music festival. Blade jumped right into the culinary world two weeks after high school in 2009. Where he enrolled at the art institute of Jacksonville. In 2010 he transferred to Keiser University longing for a more one on one learning experience with the instructors. 2012, after completing culinary school he moved to Key West and worked at the nationally recognized resort The Westin. Blade immediately fell in love with the Keys lifestyle and food. For the next 6 years he worked seasonally throughout the Keys at many of the top restaurants. Such as Kaiyo Grill and the Green Turtle Inn, soaking up as much knowledge as possible. In 2018 Blade and his family chose to move to Pensacola to set down some roots. 2019 saw him accepting the job of Chef de Cuisine here at Jackson's. Blade would describe himself as a journey man chef. Whose thirst for knowledge led him to work at many different cuisine style restaurants under some top chefs throughout the years. Globally influenced bold flavors and a combination of multiple taste and textures define his cooking style.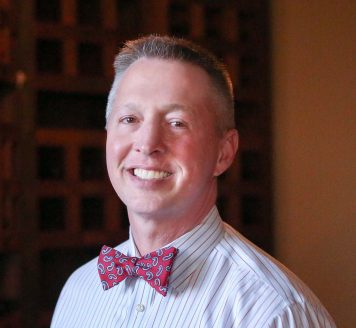 Steve Eskridge
Director of Operations
Born in Blue Island, Illinois and raised in San Diego, California, Steve enlisted in the Navy upon graduation from high school. He honorably served as a Hospital Corpsman and was stationed in Okinawa Japan, Guantanamo Bay Cuba, and Panama City Florida. He moved to Pensacola in 1998 and began his employment at The Fish House as a server. He moved quickly up the ranks and accepted the General Manager position in 2001. During his tenure he oversaw the addition of Atlas Oyster House and The Deck Bar, as well as the demolition and subsequent rebuilding of The Fish House due to hurricane Ivan. In 2009, he was promoted to the prestigious General Manager position at Jackson's Steakhouse where he led his team to provide exemplary service and an extraordinary fine dining experience. In 2015, he was named Director of Operations for Great Southern Restaurants. Eskridge is dedicated to providing genuine hospitality, making sure our guests receive the highest level of service.